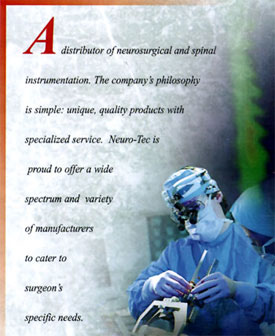 Tom Smithweck, Distributor Principal Neuro-Tec.
In 1985, Tom began his surgical sales career with Aesculap Instruments as the North and South Carolina territory sales representative. In 1988, Tom returned to Georgia and continued as a territory sales representative with Aesculap until January 1992. During these years, Tom focused his efforts primarily on the Neuro arena. After enjoying substantial success at Aesculap including being the first Million Dollar Sales Representative, Member of the President's Club and First in Total Dollar Sales two of his last three years, Tom decided to embark upon his own distributorship...Neuro-Tec.

Neuro-Tec was founded in 1992. Over these past 25 years, Neuro-tec has grown from a simple one-man operation covering the Georgia marketplace to a distributorship now employing over 20 persons covering a three state area. In addition the number of manufacturers we represent has grown from two to over twenty!

Neuro-Tec's remarkable sales growth has been accomplished through the hard work and dedication of all of our employees, the exceptional manufacturers we have the privilege of representing and most importantly the surgeons, staff and accounts we have had the pleasure of serving.
We have the honor of working with the best manufacturers and customers in the surgical arena and still welcome the opportunity to represent good synergistic product offerings in the Neuro-Tec portfolio.